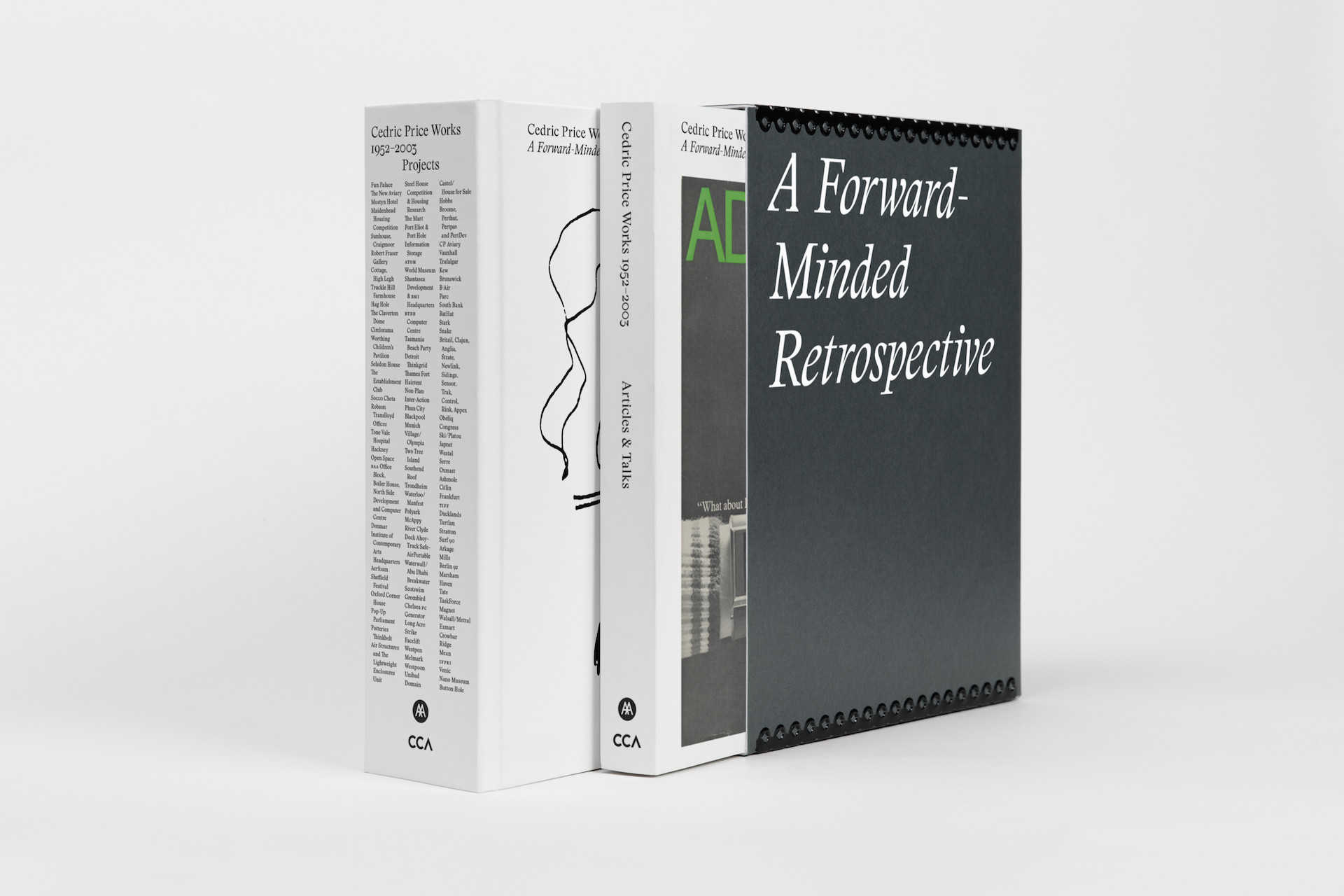 Project
Cedric Price Works 1952–2003: A Forward-Minded Retrospective
Type
Location
Team
AA Print Studio: Zak Kyes (Art Director), Wayne Daly (Graphic Designer)
Cedric Price Works 1952–2003: A Forward-Minded Retrospective, brings together for the first time the pioneering projects, articles and talks of British architect Cedric Price (1934–2003). Art Directed by Zak Kyes and designed by Wayne Daly at the AA Print Studio, Cedric Price Works contains 1,400 pages and over 900 drawings, photographs and images and weighs nearly 7kg.
Over the course of four years we worked closely with editor Samantha Hardingham, family members from the Cedric Price Estate and the two co-publishers: Architectural Association (AA), where Cedric Price studied and taught and the Canadian Centre for Architecture (CCA) who own the archive.
The monograph is divided into two volumes contained within a metal-edged archival case of the kind used in the office of Cedric Price Architects. Each volume employs material and production techniques that reflect the content and personality of the book's subject.
Volume 1: Projects is an encyclopaedic hardbound book containing 112 projects presented in chronological order. Projects is divided into decades by a thumb-index, a series of labels notches cut along the foredge of the book. The volume draws upon on all original archival material including a two and half metre-long leporello reproducing of Price's 1965 City of the Future drawing. The page count of the book is determined by the maximum possible spine depth, while the spine itself lists all the projects contained within.
Volume 2: Articles & Talks presents another critical dimension of Price's practice, namely his activities as a public speaker and writer. Comprising both illustrated lecture transcripts and facsimiles of his published articles, this soft-bound volume makes for an appropriately magazine-like compendium.
Both volumes are typeset in Stanley, a contemporary take on the Stanley Morison's Times New Roman, chosen for its Pricean combination of forward-mindedness and Englishness. Each volume in individually hand-stamped with the seal of the "Hot Stuff Club"—a mysterious cabal of which Cedric Price was the founder and life president.